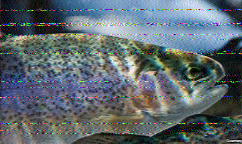 VOA Radiogram for 14-15 June 2014 (program 63) is MFSK32, with a couple of surprises at the end…
 
 1:35  Program preview
 2:37  Mapping the salmon genome, with image
 8:10  Internet traffic may triple by 2018, with chart
15:31  Pao-pao.net evades Chinese censorship, with image
21:49  World Cup Fever at VOA, with image
26:50  Closing announcements  
 
Please send your reception reports to radiogram@voanews.com
 
VOA Radiogram transmission schedule
(all days and times UTC):
Sat 0930-1000 5745 kHz
Sat 1600-1630 17860 kHz
Sun 0230-0300 5745 kHz
Sun 1930-2000 15670 kHz
All via the Edward R. Murrow transmitting station in North Carolina.
 
The Mighty KBC will transmit a minute of MFSK64 Saturday at about 1130 UTC on 6095 kHz, and Sunday at about 0130 UTC (9:30 pm EDT) on 9925 kHz. These frequencies are via Germany. Reports to themightykbc@gmail.com.